My first Picture of a Comet

Komet 38P/Stephan-Oterma überquert M36 am 28.12.1980
Leider etwas unscharf. Wie sich später herausstellte war die Mattscheibe der geliehenen Edixa Spiegelreflexkamera dejustiert.

Comet 38P/Stephan-Oterma passes M36 on 1980 December 28
Unfortunately a bit out of focus. As it turned out later, the focusing screen of the borrowed Edixa SLR camera was misaligned.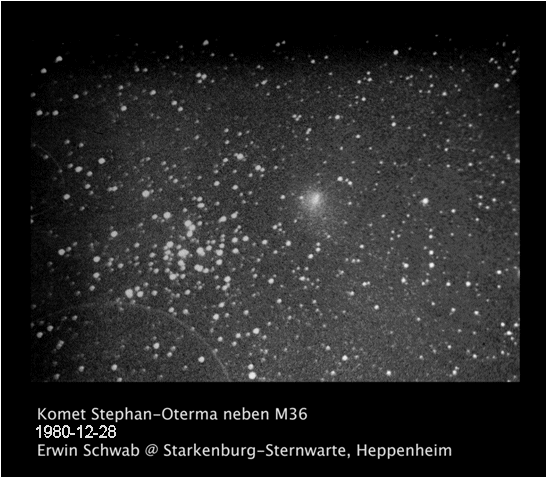 © 1980 Erwin Schwab
1980 December 28
35min, 0.45-m f/4.4 Newton, 103a-E + Edixa, Starkenburg Observatory Heppenheim, Germany
---
Der Komet im Jahre 2019 nach fast 40 Jahren – The Comet in 2019 after almost 40 years